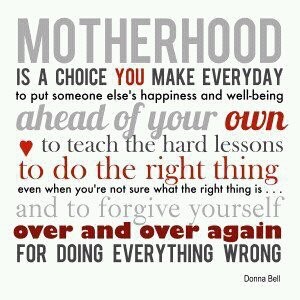 Mother's Day is a special time reserved to reflect on how much of your shit your Mom put up with while raising you.  Are you not grateful she didn't smother you in your sleep when you were whining and cranking all the time during your infancy?
Think of the thousands of diapers she changed, the hours spent soothing you as you cut new teeth (whiskey rubbed on baby gums works) the sleepless nights and restless days as you grew under her constant nurturing, then finally went off to Kindergarten, prepared to engage in a different world without Mom.  Mother's become very emotional when their babies go off to school– crying and making a fuss that you arrived to your first day of school, another milestone reached without major complications!  They are really crying tears of joy that they can actually go to the bathroom in peace and quiet, maybe read a book or go shopping without you screaming for a lollipop at the grocery store …
She put up with you through your teenage years when you discovered drugs, sex and rock n roll, skipped school, got into fights and screamed hateful, hormone filled venom at her.  She ignored you as you complained about everything from her cooking to how she looked at you (yes, you are a Martian at this point in your life) and she still loved you, unconditionally.  She drove you to sports practices, ballet lessons, bought expensive instruments that sit in the hall closet to this day because you were interested in the trumpet for 10 minutes.  She showed no fear when you got behind the steering wheel for your first of forty hours to pass the driving exam, though you can now ask her how many of the gray hairs she has belong to that experience?  She may admit you nearly gave her a heart attack or permanently damaged her sciatic nerve from pumping imaginary brakes but at the time she showed full support and courage getting into the car with you.  Mothers are insane.
Mothers sing a song of joy on the magical day you turn 18.  Confident she raised a capable human being who can now find a job and move out so she can have that long desired art room or maybe learn how to play that trumpet like Al Hirt?  She raised you to handle your finances, keep a job, get married, buy a home and raise your own family, but her work is really never done, she's a Mom!  She can guide you through the crevices of adulthood, the trials and tribulations of irritating employers, credit card debt (didn't listen to that lesson, did you?) or help you with babysitting kids, dogs or cats.  She will water your plants when you go on vacations, pick up your mail and clean your house while your away–just remember to hide things you don't want her to see!
No matter how old you are, you will always be her baby and she will only remember the good things about your growing up years–it's selective amnesia–and we are deeply humbled by that gift.  If your Mother is still on this planet–bring her a favorite flowering bush and plant it in her yard.  She loves Godiva chocolates that don't have bites taken out of them and really, really appreciates the large bottle of Vanilla Crown.  If your Mother is in Heaven, plant a Memorial Garden for her with her favorite flowering trees or bushes, eat a box of Godiva chocolates underneath it and drink a toast to her.  Your Mother chose LIFE for you and for this, it's a good day to remember Mom.