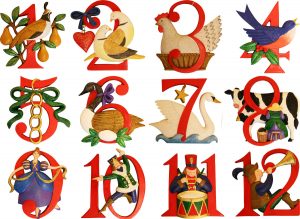 We trust all enjoyed the Solemnity of the Nativity of our Lord, but does Christmas really end on December 25th?  Not according to tradition.  There are 12 days of Christmas that began on December 25 and continue until the Feast of the Epiphany or if you are Orthodox, you are celebrating Christmas on January 7th!
If you didn't find a present and showed up at a party empty-handed, here's your chance to redeem yourself!  Gift certificates in any amount (our studio minimum is still $100.00) can still be given as a Christmas present 🙂
Our holiday hours are Tuesday through Saturday 11-7 and Sunday 12-6 though we will be closed New Year's Eve and New Year's Day.  Gift certificates are cash only and are non-transferable and non-refundable.  And for those who celebrate this day–HAPPY KWANZAA!