The month has flown by … actually, the entire Summer has flown by!  We've been taking care of our wonderful clients and establishing relationships with our new clients; we love meeting new people and welcoming them into our Dragon Moon Family.
In July, my beautiful daughter, Carrie turned … fofoforfortforty  Carrie is a master hairstylist and has been creating styles since she was 18.  It seems like yesterday she was walking out of cosmetology with her graduation certificate!  For her birthday, I tattooed a pair of scissors on her arm.  It's very weird tattooing your kids, but she always hangs in there like the trooper she is!  Carrie is a Grandmother now which makes me a Great-Grandmother–how the heck did this happen??? Well, we all know how it happens, but …. I think we look pretty good for being old grannies!
July is birthday month for 3 of my kids; Carrie, Philip and Jacob–they all get tattoos for their birthdays!
As many of you know, I've been working in the beautiful Russian-Byzantine style of iconography for the past three years.   Well … one of our family clients, Warren Cherry, hand delivered (backstage) my icon of Archangel Gabriel to none other than Vincent Furnier!!  Otherwise known by his stage name "Alice Cooper" he immediately recognized the ancient method of egg/wine emulsion mixed with hand ground pigments.  I'm pleased that "Alice" is keeping Archangel Gabriel in his home to watch over his shoulder as he writes his songs.  Many of you may not realize that Vincent is a Christian.  As a rebellious teenager, I played his records loud and long; this drove my Mother crazy and she banned any music by Alice Cooper deeming it "satanic" — hahaha!  When I called Mom a few weeks ago and told her the story, she said "You are kidding me?!  He's a Christian??"  It is my honor and pleasure that he now has one of my icons!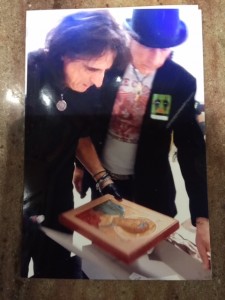 We were able to spend time with our daughters up in New Hampshire (Lindsey) and Massachusetts (Michelle) and see our grandkids.  New baby, Jaxston arrived in August for big sister Juliana to love and cuddle; Anthony with his mop of curly red hair is a very active 2 year old — Adalynn and big brother, are growing like weeds!  We have such a good time seeing all of our kids growing up and being responsible.  Who said having tattooist's as parents is a bad influence, HA!?  All of our kids are employed, pay their bills, have nice homes and feed their children.  Our only hope is they will take care of us when we are too old.  Don't put us in a "home", kids.  We changed your poopy pants, you will change ours 🙂
Our studio took part in the Creative Alliance Tattoo Show in Baltimore a few weeks ago and everyone had a good time.  I'll let Adam and Erik post the good times on their blog.
Dragon Moon will celebrate 38 years in 2016!  We have been greatly blessed by God to be successful.  It is only through His Hand that feeds the birds has also fed us.  We thank God for our daily bread.  I'll  leave you with this little passage:
"For you and I are the body of Christ, broken and shared so that others might live … just like the Eucharist.  Every one of the tears I have ever shed has, in time, helped another.  If my brokenness can bring hope or comfort, wisdom or counsel, peace or even joy to another member of God's family, then that pain was not worthless but very worthwhile."
I truly believe this passage applies to the life of a tattooist; at least to all of us in our studio.  We meet many people who come to us because of our compassion, because of our counsel, because of our sacred approach to the temples (our bodies) of Christ.  We make no judgments in the people we work with every day for we are all broken to some degree but see the Face of Christ in each other.  Water truly does seek its own level.  Drop by for a visit!