In Loving Memory of Connie Hawks
Connie Hawks entered Eternal Life on March 26, 2016 just a short few weeks after her 59th birthday.  Connie's Memorial Service was this past Sunday, April 3 and we thank all of our clients who understand that death waits for no one as they were re-scheduled so we could pay our respects.
Connie was a valued friend, a fantastic receptionist when she was employed with us a few years back and a great  babysitter to what she called "HER BOYS!"  Connie met the kids when they were very young and she played with them while we worked the weekends.  Often ending up at Crabtown to play keno and video games; Connie gave each kid a roll of quarters and told them to have fun!  The kids loved Connie as she taught them many other things–learning math skills by playing poker, how to behave (she'd kick their asses if they didn't!) and she watched as each kid grew into adulthood, starting families of their own.  Connie was very proud to watch them grow into honest young men.
Connie also found the best chow-chow we ever had–Marshall.  Marshall only lived just a few days shy of his 6th birthday and we loved that dog like no other!  Connie loved him too, calling him "Kody DIOGE" which drove me crazy–"his name is Marshall!" I'd yell, and she'd laugh her ass off as she knew it made me nuts.  After all, it really was her dog, we just took care of him.  I had always promised her I would find a Ragdoll kitten for her and sadly, I never did–paying too much attention to business and not enough attention to friends …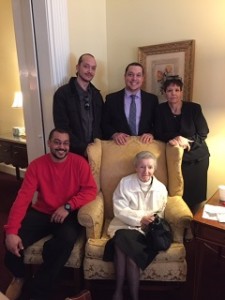 Connie is survived by her Mother, Audrey Hawks and her long time partner, Sue Haller.  The family knew Connie wouldn't want any flowers but knew she would love it if people donated to the SPCA of Anne Arundel County in her name.  For all of our friends and family that knew Connie, please consider donating a few bucks.
Connie will remain in our hearts until we meet again.  It ain't "Goodbye Connie" it's "See ya later!"