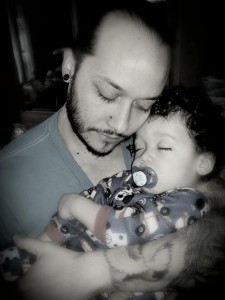 I've been piercing since I was 16 years old and tattooing since age 18.
Over the years many things have changed;  In 2012, I became a Dad!  Born on July 3, my son Caleb has blessed my life with innumerable positive experiences.  Caleb has been a daily part of life at Dragon Moon, he learned to scoot in his "super coupe" zooming into the doorways of each artist's room with a ready smile and a cheerful countenance and as he got older, took his first footsteps at the studio.  He's brought joy to all of our Dragon Moon family.
Now in kindergarten, he visits on Wednesdays and Fridays and always has a ready "hello!" to all the people that come through our doors.  Caleb loves wearing temporary tattoos and always has a few on hand for children who come with their parents.
My son, my new wife, Ashley, tattooing and piercing make up my life, there is nothing else I'd rather be doing.  Stop in anytime for your new tattoo or piercing or to say hi to Caleb–he can be found in the art room, drawing!  He has also learned how to answer the phones and does a great job! Ashley drops in on occasion as she is a registered pediatric nurse and works full time, but she handles our social media for us and is a lovely and welcomed member of the Dragon Moon Family 🙂
March 16, 2018 Ashley and I were married in a beautiful ceremony so Caleb now has a Bonus Mom who will love and care for him as though he were her own!
My work schedule has changed a bit to accommodate Caleb's school schedule:  
Tuesday 11–7pm
Wednesday 11-5pm
Thursday 11-7pm
Friday 11- 5pm
Every other Saturday 11-7pm
Sunday 12-6pm
Off all day on Monday and every other Saturday