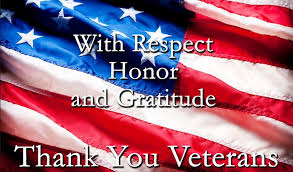 Honoring all who gave their lives for our country, protecting our freedoms and those still with us who are suffering daily serving Americans!  Veteran's Day is held each year to commemorate the end of World War 1 and to honor all veteran's and victims of war; WW1 officially ended when the Treaty of Versailles was signed on June 28, 1919 however fighting actually ceased seven months earlier when a temporary cessation of hostilities, between Allied nations and Germany went into effect on the eleventh hour of the eleventh day of the eleventh month.  For this reason is why we celebrate the end of the "war to end all wars."
Today we celebrate our freedoms and pray for the souls lost, the souls who continue to protect and for truly, an end to ALL wars.  In our times we continue to face threats from foreign countries, internal struggles within toward American government and of course … terrorism.  We hope and pray that there will be no third world war and that our military continues to grow in force to prevent it.
Both of our fathers served in the military, Tom's father served in the Navy and Mick's father served in the Army–we are grateful they survived but many in our families did not.  Let our thoughts today be toward preserving the memories of those of were killed, prayers for the futures of all of our families in the armed forces and PEACE IN THE WORLD.