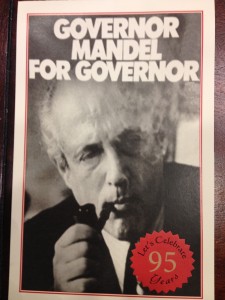 As I come to the close of this day and reflect upon the things that have happened lately, I'm grateful for many things in my life of tattooing for the past forty years.  On May 13th, we were invited to attend the birthday party of Governor Marvin Mandel who celebrated his 95th year. Invited as guests of Bruce Bereano, Chief Champion of the Rights of Tattooists in Maryland, Mick and I were the first ones to greet our current Governor, Larry Hogan!  As he came through the doors, we were sitting at the first table he encountered and we rose to greet him.  I was the first to shake his hand and am kicking myself for not having a photo taken with him at that time since he was mobbed by people the rest of the evening.
Larry Hogan is the best Governor for our state, I believe this with all of my heart as I feel like he will look out for small business owners and not waste our hard earned tax dollars.  We also visited with Governor Bob Ehrlich and Mick hugged Mike Miller, President of the Maryland Senate.  I'm glad we continue to stay abreast of legislative activities in the event anything like what happened in 1997 and 2008 don't repeat.
Over the past weekend we attended the Chesapeake Bay Blues Festival and listened to great blues artists like The Marcus King Band, Shemekia Copeland, Charlie Musselwhite, and then waited in the pouring rain like old times in the 70's to hear Gregg Allman play on Saturday night!  Jarekus Singleton (very talented young man from Mississippi, check him out!) and later Sunday evening Buddy Guy played .
During the course of the concerts, I was able to give back a 1972 Telecaster to my old friend, Dean Rosenthal (Chesapeake Bay Blues Band) as I had purchased it from him over 5 years ago when he had health concerns.  It was my intention to give it back to him someday and this weekend was the right time–Dean celebrated his 40th year of performing and his birthday, it was the right time and place. Hung out with Po Artes and his wife Nancy (thank you for using sunblock on your tattoos!) and Warren Cherry and his girlfriend, Laura–we spent the last day together having a good time.  Rick Hogue and crew from Garret Park Guitars rounded out the fun and I'm very grateful to have such good people in my life.  More to come later folks, gotta get to work in the morning and celebrate another good day.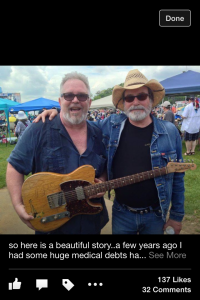 Dean with Tom (from Dean's facebook photo)