Caring Cupboard – Foods for Folks!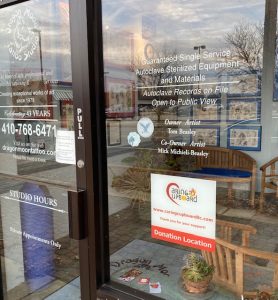 With the closing of St. Michael's Homeless Shelter on Crain Highway in Glen Burnie, we looked for places we can help in our community.  In the recent past we gathered clothing, toys, books and foods for St. Michael's distribution amongst the city's poorest during the holiday season.
Each Tuesday at their shelter was the day to hand out packages of clothing for folks.  When Trish and her husband, Ed closed their doors we found the Caring Cupboard in Pasadena and gave Chuck Yoakum a call.  Chuck, a warm and enthusiastic crusader for compassion stopped by our studio to drop the Caring Cupboard box in our front room.  We are now "officially" a drop location for non-perishable foodstuffs and personal hygiene products in our Glen Burnie Town Center location.
We are happy to help our brothers and sisters in need.  The forty days of Lent gives us the perfect time to reflect on what is known as the "Three Pillars of Lent" — prayer, fasting and alms giving.  It's a time to re-visit the treasure most important — the treasure stored in your heart.  Our hearts is what God looks upon to ask us " who have you helped, yourself or others?"  My Dad, a deacon in the Catholic Church,, along with our Mama — used to sit us down after dinner dishes and chores were finished to spend a half hour with what was called "The Examination of Conscience." We thought this was the most tortuous half hour of our day … our friends were out playing green ghost tag or watching their favorite t.v show while we sat to review our day.
Uncomfortable to say the least!  "Who did you help?" was the first question our parents asked us.  Reflecting on this, we were then asked "Who did you hurt?"  Ouch!  That one always came back to haunt us!  The next question asked "How can you repair the hurt?"  Those life lessons were drilled into our hearts with the tools of unconditional love.  Love your neighbor as you love yourself.  Simple, concise, relevant and very difficult to do.
"All Christians are called to be hospitable, but it is more than serving a meal or filling a bed, opening our door — it is open to ourselves, our hearts, to the needs of others.  Hospitality is not just shelter, but the quality of welcome behind it." — Dorothy Day
There are five more weeks in Lent.  If you'd like to donate canned goods or food items that don't require refrigeration, please drop off your goods anytime during business hours — Tuesday through Saturday 12 noon until at least 7:00 pm.  The hungry folks appreciate it and your heart will have one more treasure to carry 🙂