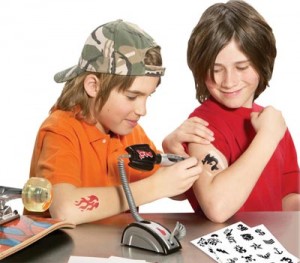 "A new 18 year old is born every minute and a new 16 year old every second" this has always been a motto for us and we are happy to tattoo or pierce minors.  Our reasoning is, kids will get tattooed whether they are of legal age of consent or not and we've tattooed thousands of kids since 1978, in a safe and sterile environment with no chance of infections.  The kids were tattooed here WITH PARENTAL CONSENT!  This means we require BOTH parents and their state issued I.D.'s along with their minor child's birth certificate or learner's permit.
If the parents are divorced, we need to copy (and keep on file) the judgement of joint or sole legal custody that is signed in ink by the issuing judge.  BOTH PARENTS MUST SIGN, irregardless of the custody arrangements.  In the event of the death of a parent, we will ask you for the death certificate of the deceased.  Yes, people lie! Big brothers, sisters, step-parents, grandparents, your "fun and crazy" aunt and parole officers are NOT legal guardians.  Bring us signed documentation and we'll tattoo the minor.
Waaaaay back in 1997, a piece of legislation was introduced that would have effectively prohibited all tattoo studios and piercing studios from doing business in the state of Maryland.  The legislators reason?   Seems one 13 year old boy (who is now be 32 years old) stole $65.00 from his Mom's purse and had a hack at a flea market tattoo a Marine Corp bulldog on his chest.  The Mom went to the legislature, collared Delegate Sonny Minnick and he introduced the bill that stated on page 13 "all tattoo artists and piercers would be prohibited from performing services in Maryland in certain circumstances."
The newspaper story from USA Today is in our front lobby if you want to read the whole thing, it still turns our stomachs as it cost a coalition of 50 tattooists and piercers over $48,000.00 collectively to stop this dangerous piece of legislation.  We are all still in business because of the efforts of the established tattoo and piercing studios.  The Johnny-come-lately's don't know squat about what happened in '97–most were still in diapers.  So if a "tattoo artist" in Maryland tattoos a minor without the above mentioned documentation, they are idiots and putting everyone at risk again.  It's not worth any amount of money because a youngster in your lobby whines they "need" a tattoo before prom … there is no such thing as a "tattoo emergency!"
So it boils down to this NO ID? NO TATTOO! NO PIERCING! NO KIDDING!